What are the biggest challenges construction organizations face when it comes to their projects? Well, in our experience working with General Contractors, it all comes down to an overarching lack of coordination. Without the right resources, sharing data between teams across multiple offices and off-site locations can seem nearly impossible. That's where file sharing with SmartFile comes in. 
Instead of having to inform every project stakeholder, from vendors to in-house professionals, of their responsibilities for the project, construction file sharing enables project management consultants to streamline coordination between various stakeholders. Not to mention, secure file sharing solutions increase productivity, help distribute information faster and more efficiently, and clears up confusion among onsite workers.
Whether you're a large construction company or a small business, file sharing solutions can offer a number of benefits. The best construction firms stand out to their clients through prompt and clear communication as well as fast and efficient project management. Your technology management should be held to the same standards! Keep reading to learn how file sharing can transform your construction operations and how we can help.
Cost Savings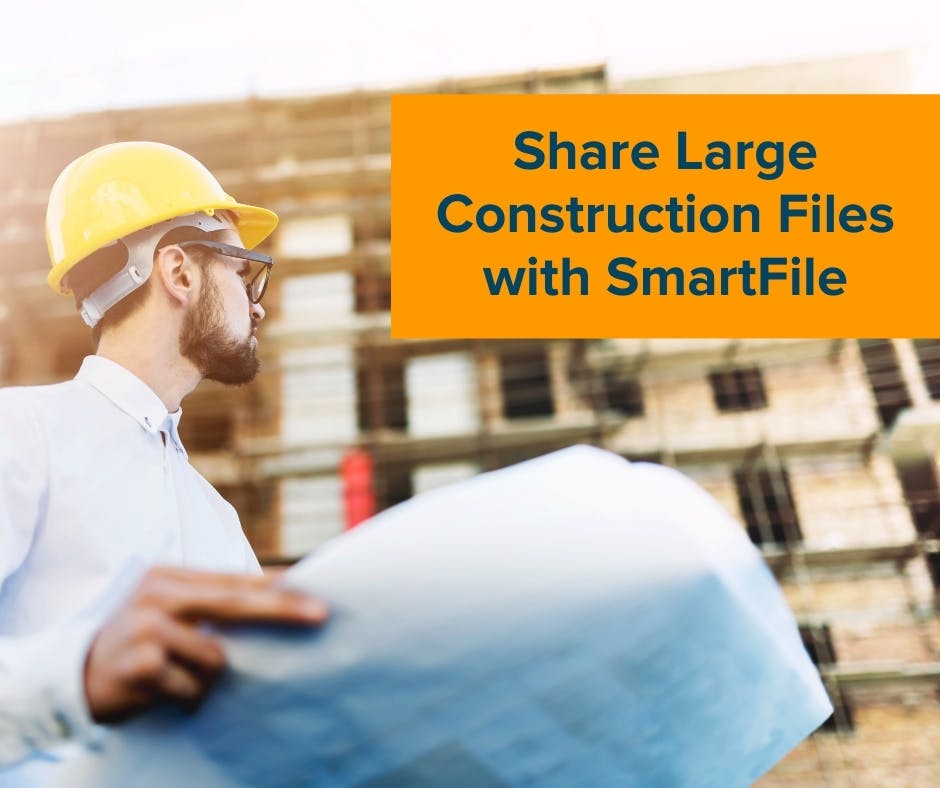 Every construction company sets out with the same goal in mind: build high-quality projects on time and on budget. Easy, right? Well—there's a lot that goes into this type of work, and contractors are looking for any way to streamline processes to save money. 
With SmartFile's file sharing technology, contractors and project managers can get specs, drawings, and projects updated from anywhere, 24/7, with the ability to share bid packages and collaborate on projects better than ever before.
Cloud storage and sharing can help you reduce costs by decreasing IT expenses. Utilizing the cloud means there's no need to worry about managing servers or buying expensive equipment. Another cool thing about the cloud is you can choose specific service levels according to your needs rather than buying or building out an IT architecture, making cloud storage and sharing a cost-effective solution for construction companies.
A quality file sharing solution reduces profit fade by helping all project affiliates stay ahead of scope changes. And while cloud solutions aren't inexpensive, they're much cheaper than maintaining the equivalent physical hardware. Additionally, linking up with the right file sharing solutions for your needs will more than pay for itself in increased revenue and productivity. At SmartFile, we can take the guesswork out of your day-to-day, both reducing headaches and money spent.
Saves Time
Imagine you need a file to move on with a project, and the only person with a copy gets sick or goes on vacation and is unable to get back to you promptly. With file sharing, gone are the days of the entire project being held up as you wait for the critical information you need. 
When every file for your construction projects is stored within your designated file sharing software, anyone with the appropriate security rights can gain access with just the click of a button. No more relying and waiting on someone else to get it to you! 
And due to the version and history controls within our software, it's incredibly simple to find the latest copy of a file and get up-to-date on any changes made. No more sifting through endless email folders in hopes of tracking down the history of edits and revisions. We make it easy for you and everyone involved!
Not only that, but files can also be shared from your project management software with a few simple clicks — much faster than scanning and emailing files or sending paper copies.
Enhanced Security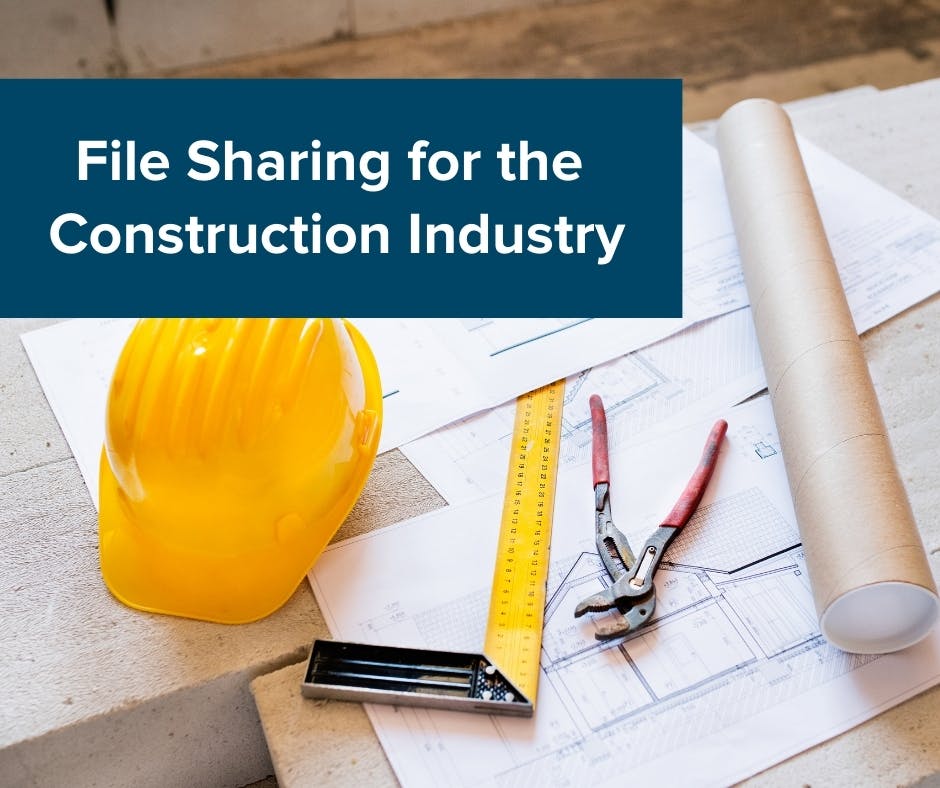 Our file-sharing services are so ideal for construction firms because we make collaboration easier, projects more efficient, and security tighter. We also make it possible to store and transfer large volumes of digital data in a secure manner. 
Security measures are built into our file sharing platform to protect your data from being hacked or stolen. Since construction firms regularly deal with sensitive information, security is a top concern. A file-sharing service must protect your information when stored, transferred to others, as well as when it's accessed on various devices out in the field.
Construction firms also need the ability to assign varying levels of functionality to both lower-level administration and upper-level administration. Lower-level administrators are in charge of keeping projects on track and need granular control over group and user permissions, auditing, bandwidth quotas, and an array of other details. This leaves upper-level administrators to manage directory structures and enforce password expiration dates to maintain superior project organization and security.
Comprehensive administrative control also enables protection for documents themselves. You can create granular permissions down to the individual employee, so you can keep track of who's accessing what and where. 
Relying on our cloud file sharing increases security by eliminating physical theft, loss, or destruction of your data. We understand that to many, it can feel like relinquishing physical control of your data makes it less secure, but this isn't the case. Most hacks typically stem from human error, and this is something SmartFile also helps to eliminate. 
One Convenient Location
As anyone that's worked within the industry knows, construction projects are complex, and various people handle each file. Contractors, subcontractors, architects, and engineers must collaborate in order to share large amounts of data, including complex files like renderings or assemblies. Even the submittal process by itself can result in thousands of documents.
That's why it's so beneficial to have all your files in one convenient place, so everyone can access what they need to get the job done. Before the cloud changed the game, the only way to check on a project was to go to the site in person and see for yourself—a task that can take hours out of a workday. The cool thing about file sharing is that it offers you a real-time view of your site from virtually anywhere in the world. Being able to access your most critical information in one place easily can add up-front efficiencies to your process, which in turn creates time and cost savings.
Tailored to Your Needs
Our file sharing solutions are tailored to your projects' unique needs. Construction workers and project managers need to share everything from documents and blueprints to schedules, and—you name it. Whether you or your client prefer 2D or 3D models, handling a large amount of data is inevitable in this line of work. And since typical design file sizes range anywhere from 1 MB for CAD drawings to 1 GB for complex 3D models, you're going to need all the storage you can get.
We have the file sharing service construction firms need to handle large project files like .rvt and .dwg. Keeping important construction-related files accessible allows your entire team to stay informed and up-to-date on new plans while eliminating scheduling conflicts and project-related errors. Better yet, live document version tracking tracks the editing process across people and teams, increasing the effectiveness of your collaboration efforts.
You can even share large CAD files with the benefits of FTP and view them with our CAD viewer. This is a feature that allows subcontractors to view CAD files for project proposals and development. As a bonus, no software is required to view, print, or download files on SmartFile, making sharing easy for everyone. 
It's also important to note that when evaluating a file-sharing service and its collaborative capacity, you'll want to look for flexible, scalable storage and transfer. Efficient file sharing services should simplify file transfer procedures and reduce the need to exchange physical documents—this means faster communication. Everyone benefits.
The Best File Sharing Solutions for Construction Firms
Whether you're a general contractor managing a small team or a large-scale construction company navigating large-scale projects, finding the right file sharing solution for you and your team is critical. 
With SmartFile, you can connect with any FTP program, web interface, or API to make your files easily accessible for when you, your workers, or your clients need them the most.
We can even help make your company look more professional with our custom branding. Use your site to share project plans and blueprints with clients and instill your brand with your logo, company colors, and unique domain name.
We're always here to help construction companies easily manage and share large file structures inside and outside their business. When you need the perfect blend of simplicity, security, and functionality, we have the file sharing solutions to exceed your expectations.