The energy industry is responsible for providing people with a reliable source of fuel that they can use every day. Because this industry is so diverse, it is essential to have reliable tools that people throughout the industry can use to share information quickly and easily. Furthermore, because this is such a necessary industry, some hackers are continuously trying to take advantage of security vulnerabilities.
In order to make sure vital infrastructure remains reliable throughout all fields, regulatory authorities have a wide variety of rules that companies in the industry need to follow. Furthermore, energy companies themselves need to make sure they have the proper security measures to ensure compliance, protect their confidential information, protect the confidential information of their clients, and make sure everyone has access to the resources they need.
With all of this in mind, take a look at some of the most important security measures and compliance issues people in the energy industry need to consider. Then, learn more about some of the top file-sharing solutions in line with these considerations.
Important Cybersecurity Considerations for Energy Companies
Before diving into a few details, companies in the energy industry need to take a look at a few considerations that will need to be at the forefront of their minds. A few examples include:
Strategic Intelligence and Proactive Defenses
First, it is important for companies to be proactive about protecting themselves against cyberattacks. Traditionally, energy companies have been reactive. This means that they respond to cyber security threats after they have already occurred.
Instead, it is important for energy industry companies to look into the future and practice proactiveness. This means they need to stay on top of some of the latest threats and probe their own defenses to fill any gaps before they can be taken advantage of by hackers. One of the biggest threats and cybersecurity is that you don't know what you don't know. You need to figure out what you don't know before it is too late. Otherwise, hackers will exploit vulnerabilities to take advantage of energy companies.
Reduce Awareness Gaps in Operations
It is also important for companies in the energy industry to reduce awareness gaps and their daily operations. If a security operation is functioning at a high level, it should be properly aligned to ensure that everyone is vigilant about potential security vulnerabilities. When it comes to cybersecurity, you are only as strong as your weakest link. That is why everyone needs to be aware of the threats and have knowledge regarding their defense measures.
In addition, companies need to have standardized processes in place that create a uniform operating procedure across all departments. That way, it is easier to detect coordinated attacks as quickly as possible, allowing the company to respond promptly and mitigate damage.
Collaboration on Physical and Virtual Threats
Finally, it is important for departments across a single company, as well as companies across the industry as a whole, to work together to respond to physical and virtual threats. The more eyes there are looking outward, and the more companies communicate with each other, the easier it will be for them to defend against potential vulnerabilities.
This means that liaisons should talk to each other regularly to establish strong ties between physical and virtual infrastructure. That way, IT teams understand what they are looking for and know how to respond accordingly. These threats are only going to continue growing, and companies need to have measures in place to protect themselves.
With these factors in mind, what are a few of the top considerations for security and compliance that companies in the energy industry need to know regarding a file-sharing solution?
Energy Industry: Security and Compliance Considerations
When companies in the energy industry are looking for a file-sharing solution, there are several security and compliance considerations to keep in mind. They include:
Unlimited File Size
First, companies in the energy industry need to look for a file-sharing solution that allows them to transmit files of unlimited size. Many businesses believe that if they want to have access to the best security measures, they need to keep their files as small as possible because they will be easier to protect. In reality, this is not the case. There is a balance between security and efficiency, and companies that work to try to shrink their file sizes are going to hamper their operations.
Fortunately, companies do not need to shrink their file sizes if they want to easily transmit the files from place to place. For example, SmartFile is one helpful solution that companies in the energy industry can use to transmit large files from place to place securely. There are numerous advanced security measures that SmartFile uses to protect information as it moves throughout cyberspace without forcing users to shrink the size of their files.
Even though it is true that larger files might take longer to transmit, particularly if they are protected appropriately, this does not need to be universal. Take advantage of SmartFile, and move large files throughout the energy industry without shrinking the size of the files.
End-to-End Encryption
Another critical consideration that companies in the energy industry need to consider is end-to-end encryption. When people transmit files, they are usually encrypted on the computer and at the destination; however, these files are not necessarily encrypted as they travel throughout cyberspace. This creates a vulnerability that can lead to significant regulatory issues. That is why encryption needs to serve as the foundation of IT compliance.
If a file is encrypted, this means that it is shrouded in a layer of code that makes it impossible to interpret until it is decrypted. It is important to use a file-sharing solution that will make sure your information is encrypted not only at its origin and destination but also as it moves from place to place. That is why encryption is one of the most important ways to improve your information security in the energy industry.
This is a platform that makes it easy for you to keep your files safe and your data secure. You can even set expiration dates for various links and passwords to reduce your potential vulnerability. Furthermore, if you want to enhance your security even further, you may want to use an on-premise solution to protect your information.
File Versioning
Next, you need to think about file versioning. This refers to the practice of having multiple versions of the same file. Think about what happens when people start emailing files back and forth. Every email has a different version of the file, and it can be difficult for you to figure out which one is the most recent. In addition to creating an organizational nightmare, this also increases your company's vulnerability. With multiple copies of the same file, it becomes harder for you to protect them from harm.
With advanced file versioning capabilities, you will have an easier time keeping track of what version is the most recent. If you are willing to stop using consumer-grade platforms and switch to SmartFile, you can get access to advanced file versioning capabilities. Essentially, this is a form of revision control. Suppose you are tired of documents getting locked because only one person can work on them simultaneously. In that case, it is vital to invest in a secure file-sharing solution that allows multiple people to work on the same document.
Ease of Use
As you are looking for a secure file-sharing solution in the energy industry, it is important to think about ease of use as well. This means that if a platform is easier to use, people are more likely to remain in compliance. Think about all of the different people who access your network. Now, think about all of the training you need to put them through. You have a lot of security measures in place, but you rely on your employees to follow those security measures. If they do not understand how to use the platform, they will have a difficult time protecting your confidential information.
That is why you need to find a file-sharing platform that is secure AND easy to use. With access to SmartFile, you can have both! This is a platform that is intuitive and straightforward. With some simple training, your employees will be able to take advantage of all the features. At the same time, you are not sacrificing security for a platform that is easier to use. You will still have an easy time protecting your information from start to finish, and when your employees understand how to use the platform, they will follow all the best practices necessary to make sure your confidential information is protected.
Analyze and Export Activity
As you try to find a secure file-sharing solution for the energy industry, you also need to find a solution that makes it easy to analyze and export activity on your network. For example, if you have confidential files that you need to keep track of, you need to know who is accessing them and reading the information. If you do not keep track of this information, your data could fall into the wrong hands.
With SmartFile, you get access to a platform that can keep track of all of your export activity. You can institute a security practice known as "minimum required access." This means that you should only give people access to the files they need to do their jobs. That way, if that person has their information stolen, the hacker doesn't have access to your entire network.
Then, you need to use the activity tracking capabilities from SmartFile. You can keep track of who is accessing what file, where files are being sent to, and whether someone has unauthorized access to a part of the network. This is a critical part of keeping track of key files related to your company.
Why Regulatory Compliance Matters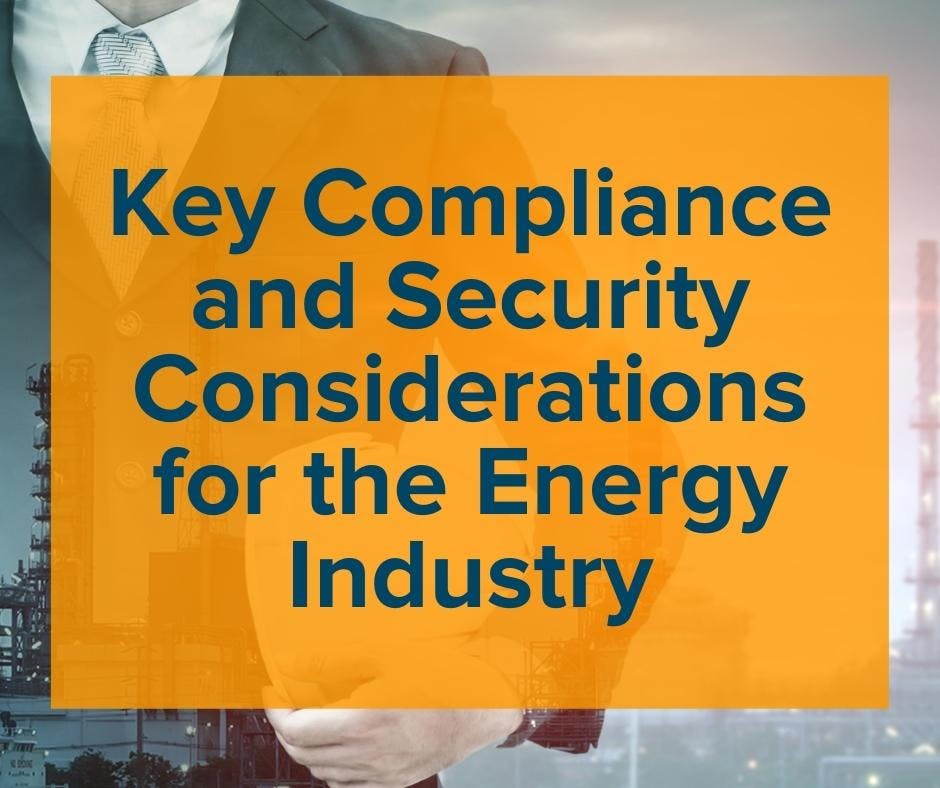 So, why is regulatory compliance so important in the energy industry? Some of the reasons why you need to think about this include:
Regulatory compliance measures have been put in place for a reason. If you follow all compliance measures, you can reduce the chances of hackers taking advantage of your security flaws.
You can also reduce your chances of being hit by potential government sanctions. If you are not in compliance with these rules and regulations, you could face fines from the federal government.
Furthermore, your customers and clients want to know that you are in compliance with all of the latest security regulations in the energy industry. This could be a huge factor in convincing them to return for repeat business.
If you are looking for a file-sharing solution that will remain in compliance with all rules and regulations in the energy industry, you need to take advantage of SmartFile.
Trust SmartFile for All of your File-Sharing Needs
Clearly, there is a lot to think about if you are looking for a file-sharing solution that can improve your security and help you remain in compliance with all government rules and regulations. 
At SmartFile, it would be our pleasure to help you protect your files. We have a tremendous amount of experience working with businesses throughout the energy industry, and we can help you protect your confidential information as well. This is important for improving the confidence of your employees and clients while also making sure you do not draw the watchful eye of auditors and regulators.
It would be our pleasure to review the features of our platform with you. If you would like to learn more about how SmartFile can help you protect your confidential files and remain in compliance, give us a call today to speak to a member of our team.