BIG THINGS are happening at SmartFile. BIG THINGS I tell you! The biggest thing of all? The SmartFile Web Application is now responsive! This may not seem like a big deal … but TRUST ME, it is.
What Is Responsive Design?
Responsive design means that our Web App will automatically adjust to your viewing device screen size. You can enjoy SmartFile from your smartphone, tablet, desktop, and laptop without losing any feature functionality. Branding is now included, too, if your package supports it! We are especially excited about our new UI (user interface) because we are the first and only responsive file-sharing web application currently available. Take that Dropbox!
Still not sure why responsive design is a big deal? For fun, log into your SmartFile account (or sign up for a free 14-day trial) from your laptop or desktop. Then, re-size your browser width from small to fill screen and watch SmartFile morph the way it would on tablet, smartphone, mobile device. COOL HUH? See what I mean in the GIF below.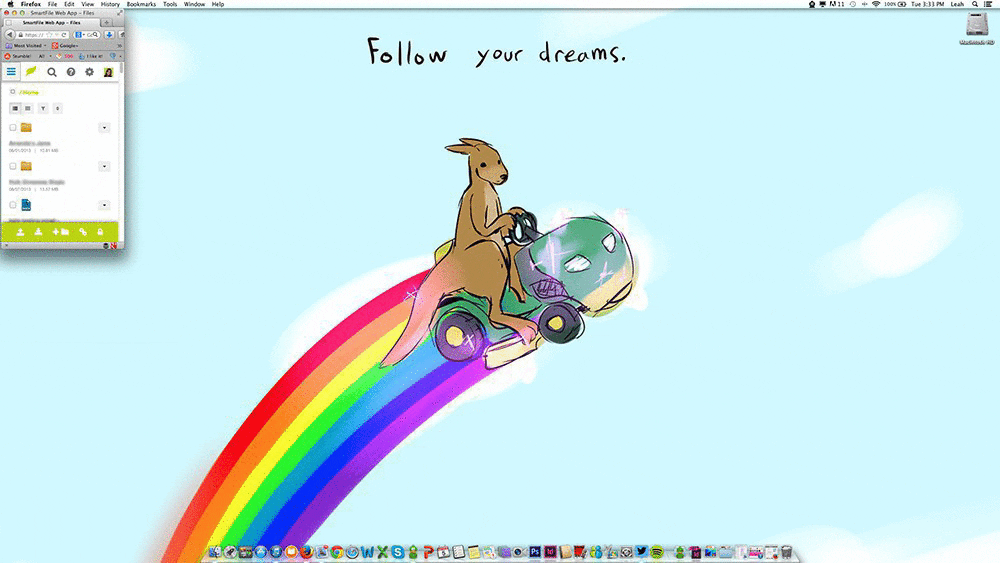 What's New with the SmartFile Web App
So, why did we decide to overhaul the SmartFile Web App? It's simple, really. We want to make sure our customers have the best possible experience when uploading, downloading, and sharing their files. It's important for us to stay current (and ahead of the curve when possible) and we wanted to get there first!
You can now login and use your SmartFile account from anywhere, so long as you have an internet connection. That is a game changer if you ask me! We put a lot of thought in the new look and feel of SmartFile and we added a few features and shortcuts that were requested by you, our valued customers. Maybe that's what makes our new UI so special … you told us what you wanted and we did our best to bring it to you as quickly as possible! Go #TeamSmartFile!
What else is new? You will immediately notice the clean, flat design. The sidebar is gone, too.
Bottom Line and Continued Improvements
We paid attention to our users; your feedback helped build the new SmartFile Web App!
Need an example? We created a 'New Folder' button. Why? We noticed that this feature was used FREQUENTLY (and we mean frequently!). It used to be located in a sub-folder of sorts, which made it hard for new users to find. Not anymore! The "New Folder" has it's own button in the new UI.
Want another example? Error messages used to have a funky icon that required you to hover OVER them to get details about the error. Now error messages are IN YOUR FACE and much, much easier to see (and then fix).
We are currently work on many minor tweaks and improvements. One of these includes a thumbnail view so you no longer need to look at photos in a list. Instead, you will be able to view your files as icons.
Stay tuned for more features and updates! Please share your reaction to the new UI in the comments below.