Let's be real: It doesn't feel like we're out of the woods yet. While some have gone back to the office, other organizations have taken a hard look at their remote work policies. Some have remained remote, some have returned full-time, and some are working under a hybrid model. 
This continued shift is great for many employees but poses some risks to employers—namely data protection risks. So, we're here to share some of our best practices for file sharing  and protecting confidential business data as you keep yourself safe by working from home.
Best Practices for Your Digital Work/Life Balance
If you're someone who uses the same computer for work tasks and personal purposes… We can't say it's a best practice, but we can say you're definitely not alone. This is pretty common practice for one simple reason: convenience. Especially if your company has equipped you with a much nicer laptop than the one you personally own (or if you didn't own one to begin with), it's very tempting to live your remote life using one device for everything. However, there are risks to both your professional and personal data. Here are some issues to avoid and best practices to maintain your digital work/life balance.
File Separation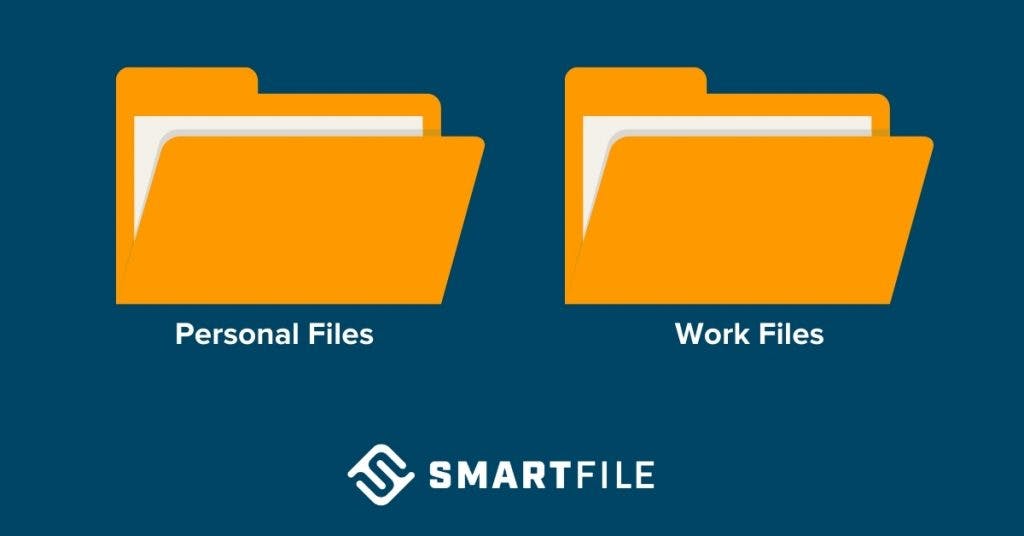 Keep work files separate from your personal files as a best practice to help maintain a better work/life balance. Quit letting your projects blend into your evenings and weekends by setting a time to close work files to put them 'away' in a specific folder, digital workspace, cloud, device user account, or even an entirely separate computer. These practices will also benefit you during your time off by preventing you from looking at professional documents so you can stay focused on personal tasks. Lastly, this separation can help reduce stress because you won't face reminders of everything you have to accomplish at work when you're relaxing with a movie or shopping online.
Team leads should encourage employees to use this file separation practice because of the organization it creates. Keeping personal documents and information out of the mix means less chance you'll accidentally send that early draft of your memoir to a customer or coworker instead of the pricing sheet they wanted. 
File Integration & Organization
While separating work documents from personal items, you're also afforded the chance to integrate all of your professional files into one secure location. Another best practice is to gather everything from your desktop, hard drives, consumer-grade file-sharing platforms, and other databases, and integrate it all into a single platform. And, while you take the time to put all of these files into one place, why not go the extra step and organize them within it? It's easy to get wrapped up in project after project, client after client, and forget to reset and reorganize your digital workspace. Since many employees had to shift to remote work relatively quickly, this best practice is particularly timely to help them get things in order while reducing the risk of incorrect file shares and data breaches.
Best Practices for Organizing Your Work While Remote
Speaking of organization, the need to keep things orderly extends beyond individuals to teams as well. With everyone working remotely, staying on track with tasks and projects statuses can become confusing. That's why our next best practice for file sharing while working from home is to put structure, naming conventions, and tagging in place across your organization. 
Folder Structuring
Maintaining a solid file-saving structure is a best practice even when you're working in the office. Creating separate folders for specific projects, departments, and types of information is likely not a new concept, but there's no harm in revisiting it and your current digital filing structures as you reset for remote work. It's best practice to keep things as simple and straightforward as possible. It might be beneficial to survey your clients, coworkers, or teams you commonly work with to understand how they organize the data you share with them. This knowledge will help you optimize your file structuring. 
File Naming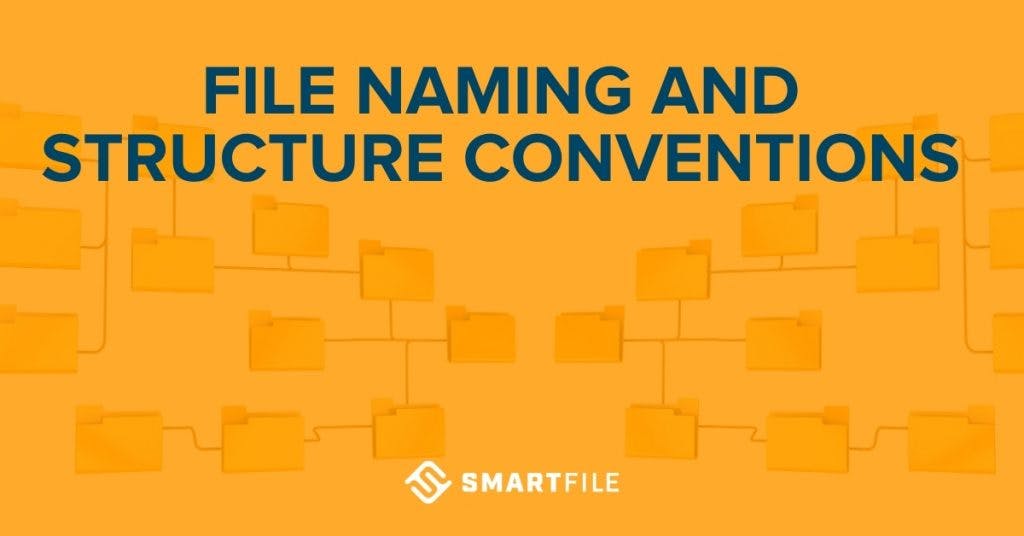 After organizing the folders where your files are saved, it's time to look at best practices for the files themselves. By deciding on a common notation and dating system when naming files (in addition to saving these files in the same accessible location as we've already talked about), everyone will be able to tell their status from a glance. This practice will also prevent outdated work from being added to and unapproved content from being shared externally. Just check for the upload with the most recent date and make sure any team member's initials or status shorthand (like "F" for "Final") are accounted for!
Tagging
If you're using a more advanced file sharing and storage system—a best practice we'd recommend in general—you can streamline remote file sharing with a tagging system. Tags allow you to sort and easily search for information. Your team can create tags for different products, departments, or purposes like 'brochure' or 'internal use only.' These tags will keep things organized and easy to find for you and your remote coworkers and, importantly, your customers and external partners. 
Granular Permissions
To make things even more organized and secure, look for a file-sharing platform that also includes granular user permissions. These settings will 'tag' each employee and client account with specific credentials to access data. Granular permissions are called this because they can be customized to provide viewing and editing powers down to the file level and they can be game-changers for working with clients, partners, and contract workers needing temporary or otherwise limited access to your confidential materials. In 2020, all employees at American companies have access to, on average, 17 million files with about 1,000 of those documents containing sensitive information. Overall, investing in a platform with tagging will also improve your remote file sharing.
Best Practices for Basic Cybersecurity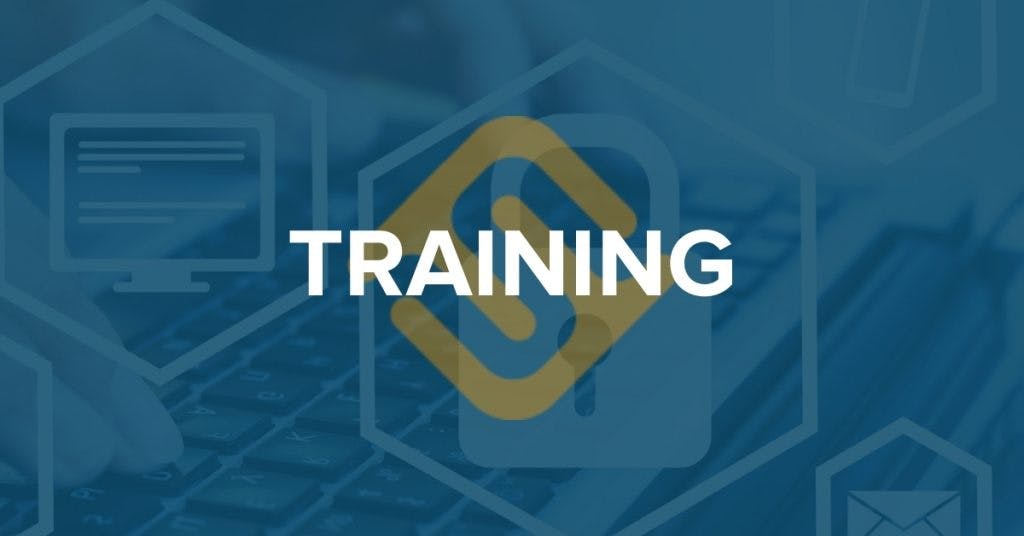 Another best practice for file sharing while working from home (or any other time), is to provide all employees with basic cybersecurity skills. These practices are especially important because on average U.S. companies report properly protecting only 5% of their files—bad news for anyone sharing their private data. Additionally, the average cost of a data breach is .9 million—bad news for companies. Once you add in the complications of working and communicating from home, it becomes obvious why basic cybersecurity training is a necessity now more than ever.
How should you go about gaining cybersecurity skills? A great starting point is your IT team. This department knows better than most the risks involved, and likely already have best practices established internally. If working with an IT department isn't an option for you, don't worry! Some key areas to begin focusing on include email phishing, using secure passwords and wifi, and backing up your files. 
Email Phishing
Learning to avoid suspicious emails and links is an easy way to protect work information (and even your personal data) from phishing scams. Using a reputable email platform can help automatically filter out spam emails, and taking advantage of an intranet for internal messaging also reduces the risk of a breach. At the end of the day, a great rule of thumb is to never enter confidential data into an email or link which you did not initiate.
Secure Passwords & Wifi
This next area is one almost everyone knows about, but which few people keep top of mind. If you haven't changed and strengthened your passwords lately, or if you use public wifi, we're not here to shame you. Consider this a friendly reminder that creating passwords that don't include full words, phrases, or numbers you commonly use is best practice. Additionally, avoiding public hotspots like coffee shops and checking your home wifi connection to make sure it's as secure as possible will level up your data protection measures. We understand how nice it is to get out of the house to work, just be careful on unsecured, public servers!
Backing Up Your Files
Last, but not least, keeping strong records by saving your files at least once a day is a must even while working from home. Consistently backing up your data protects company information, keeps files updated, and covers you in case of a breach or compliance issue. An easy way to accomplish daily back-ups while working from home is by using a professional file sharing platform set to save data automatically in a private cloud. Then the task of saving documents is off your plate while you still have easy access to them.
There are many other ways a professional-grade file sharing platform can secure and simplify your business, even as you and your team's work from home. We built SmartFile to be your one-stop-shop for securely saving and sharing your business's confidential data (and we're HIPAA-compliant too!).
Using SmartFile is a Best Practice for Remote File-Sharing 
Work/Life Balance without Sacrificing Security
SmartFile keeps all of your work files securely in one place while also helping your team stay organized. Whether your essential information is stored in a private cloud, an on-premise database, or a combination of both, your document library will be universally accessible via employee and customer portals. Saving data in this way reduces the risk of breaches and accidental leaks to external audiences, while remote employees benefit from keeping work documents out of sight and out of mind during their time off. 
Additionally, SmartFile features secure login portals, strong password protections, customizable authentication measures, and automatically backs up your data. These security measures are built in to help you stay focused on your projects and customers without having to worry about the security of their private information. SmartFile encrypts every document you upload, so only those who should see confidential data can see it.
Essentially, SmartFile's secure storage and organization functions provide peace of mind for everyone working remotely. SmartFile acts as an independent platform to restrict potential cross-contamination even if employees use the same computer, device user account, or browsers for work and personal reasons. Team leads don't have to worry about locating confidential information while employees can improve their work/life balance.
Organized File Sharing for Remote Work
Keeping your files organized and searchable while working from home is a breeze with SmartFile. In fact, maintaining a solid folder structure, helping you keep track of file versions, and making it easy to tag documents in a secure portal is one of our most basic functions. We believe these features are best practices for businesses in general, but they're especially relevant to the new reality many are facing as they continue to adjust to remote work. 
SmartFile also features granular permissions and access tracking. This allows you to keep a tight grip on who can view certain files while also having access to records of who's viewing what, when. These are crucial functions for teams to collaborate remotely, for employees to share files with clients, and for management and IT to keep an eye on things. If you're looking for an easy way to stay organized even while working from home, SmartFile is the file-sharing platform to look into.