The advent of September marks the hustle and bustle of back to school. At Anderson University, the cooler weather welcomes hammock-hanging students as well as homework — and believe me, lots of it.
For educational institutions, the ability for faculty to easily send and receive homework assignments is absolutely essential. So, how are students transferring those files these days? Well, I can attest that we are fresh out of floppy disks and FTP, but have no fear, for every possible cloud service is here!
Our Weapon of Choice
After talking with several students, I have found the primary methods of educational document transfer are Canvas (our campus learning management system), Google Drive, email, USB drives and social media. For the most part, these services are great and provide easy functionality for faculty sending assignments, staff sending scholarship or ID paperwork and students sending just about everything.
Yet, as an upperclassman, I can only pray these services are secure, and that there are no rogue users spying on my information. As a marketing major, I am constantly sending original market research to professors for projects, as well as original writings (like my SmartFile blog posts). This is all in addition to administrative paperwork such as FAFSA verification worksheets.
With all this crucial information, I can't help but ask: is my information safe? From a macroscopic view, I'd say yes. But let's look at the less noticeable but equally important details that can wreak havoc down the road and see if there is a quality higher education document management solution available.
Learning Management Systems (LMS), Google Drive and More Clouds
Our campus mainly uses two methods for sharing and receiving assignments. Our LMS for campus is Canvas, which is extremely popular at the moment. Overall, I do love the platform. The faculty, however, were not so thrilled when they had to spend a summer learning a totally new interface and transfer all their course materials from our former LMS to Canvas.
Furthermore, as a student, I have the option to write my papers directly in Canvas. While this seems like a great feature, there is no way to save my progress, and if the Internet connection is lost (which happens more than I'd like to report), I lose my entire paper.
Google Drive is another option most professors use. Overall this solution works well, though it relies heavily on an internet connection, and I often struggle with sync issues. This also applies to my personal OneDrive.
Google Drive has also dealt with previous privacy concerns. In 2012, headlines called out Google for slipping a small phrase into their terms and conditions. According to the terms, anyone who allowed Google Docs or Drive to access files stored in these locations were basically giving Google and their partners a license to use or modify the content in any way they choose. Users urged Google to change their terms and conditions, though there was no statement ever issued officially recognizing this change.
Email
When professors don't want to use cloud platforms, email is the way to go. A staple communication tool for years, email is often preferred by newer professors (still getting acquainted with Canvas) and tenured professors who may not have used their Google Drive or Canvas skills in a while.
Yet email poses several risks for personally identifiable information (PII). First, when sending administrative documents with Student IDs or social security numbers, information can easily be duplicated in multiple locations. This is known as the <a href="https://www.securefileexchange.com/security-tips/october-2015/the-multiplication-effect-of-email-and-sensitive-d" target="_blank" rel="nofollow>email multiplication effect</a>. When I send a form to a staff member, the email isn't just in their inbox, a copy is stored in my sent folder, their sent folder (if they reply), and in multiple inboxes or labels depending on filter settings.</p><p>Second, if your email is not encrypted, snoopers can see your information and communication "as easily as a postcard in the mail." Google's own <a href=" https: www.google.com transparencyreport saferemail ?hl="en"">transparency report</a> indicates that encryption during transit is a must, and major brands use only this method for communication (I don't think anyone wants their Amazon credit card number exposed and subsequently stolen).
A different headache arises with less sensitive information. On group project work, I never use email. I know that the email will turn from a simple attachment to a chaotic explosion of brainstorming, editing and clarification as four students try to agree on how to phrase even a single sentence.

USB and Portable Devices
Despite the prevalence of using cloud and internet applications for homework, there are some majors that need to submit very large file types. I have encountered engineering students with massive CAD files, or audio engineering majors with raw, uncompressed sound files straight from the recording studio. In either case, some professors may want the student to submit their assignment using a USB or portable device.
There are some dangers when using these types of portable devices. First, being fairly small they can be easy to lose (not a great idea with busy college students in multiple locations). Second, USB devices are actually a risk for spreading malware. In fact, 25% of malware is spread through USB and portable devices.
Social Media
Possibly the latest form of file transfer, social media is a big hit among college students. Several of my own professors have started Facebook groups and allow for direct messaging between faculty and students. This allows for real-time collaboration and learning, without having to wait for office hours. Facebook groups now allow users to upload files to a closed or open group, while is great for learning. However, just like cloud services, social media platforms have the potential for a data breach or loss of information.
According to a study conducted by market research firm Osterman Research, 18% of malware enters a network through insecure access of social media. This beats out the 11% of malware that enters through cloud services such as DropBox.
Just like any tool, social media can also be misused or abused. When you upload a file to social media you cannot control who downloads the content and shares it elsewhere. When it comes to my hard work on papers and research I want to make sure my intellectual property isn't at risk for use as plagiarism.
Social media has also been misused by corporate giants. In 2014, the CFO of Twitter accidently sent information about a potential merger to 9,000 of his followers when he mistakenly tweeted instead of a direct message to one individual.
How To Stay Safe in a Scary World
Keeping your personal data private is a challenge in today's world. While I don't mind sending some information over email or cloud platforms, there are certainly some original writings and financial information that I want to see stored safely.
A secure file sharing and management platform like SmartFile provides solutions to all of the issues listed above. Originally inspired by FTP, SmartFile is an API-based platform that has all the great features of FTP, while adding increased functionality and security.
SmartFile addresses the problems of losing, compromising or overwriting files, because they are all securely stored in the online platform, where files and folder all have their own access and user role permissions. Files and folders are much easier to find than in email, and overwriting is now a relic of the past since SmartFile doesn't depend on sync. And because SmartFile is secure, there is no need to worry about malware that often results from USB or social media use.
With an on-premises deployment, SmartFile uses encryption at rest and during transfer, which means data is always protected. Plus, SmartFile is available on-the-go from any mobile device. With an easy to use interface and unlimited storage space, SmartFile is a safe solution for universities and students needing higher education document management.
Higher Education Document Management Solution
Want Cloud Storage?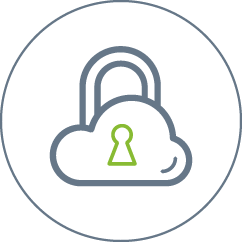 Need Enhanced Security?