We are excited to announce the Indiana Chamber of Commerce's selection of SmartFile as one of Indiana's Best Places to Work 2016! We are honored and delighted to be chosen. We thought you may have questions about being a Best Place to Work, so we've provided some answers:
How does the Indiana Chamber of Commerce select the Best Places to Work in Indiana?
Excellent question! The Indiana Chamber of Commerce selects workplaces by surveying the employer and the employees through a company called Best Companies Group. The employer fills out a questionnaire on company policy, practices and demographics. Next, the employees are surveyed on engagement and satisfaction, answering 78 questions on how they feel about working for their company. After that, companies are ranked according to the results.
In order to be considered for a Best Place to Work selection, a company must have at least 15 employees. You can learn more about the process at Best Places to Work in Indiana.
What makes SmartFile a great place to work?
For one, we have a lot of fun. Every Friday afternoon, the whole team gathers for a game of P-I-G, or F-T-P as we call it. Since F-T-P is a game of skill but also luck, you never know who's going to get the trophy.
Yes, there are trophies for first and last place and, yes, the game can get a little competitive, but everyone's a great sport. There's also ping pong for those who enjoy dominating at table tennis.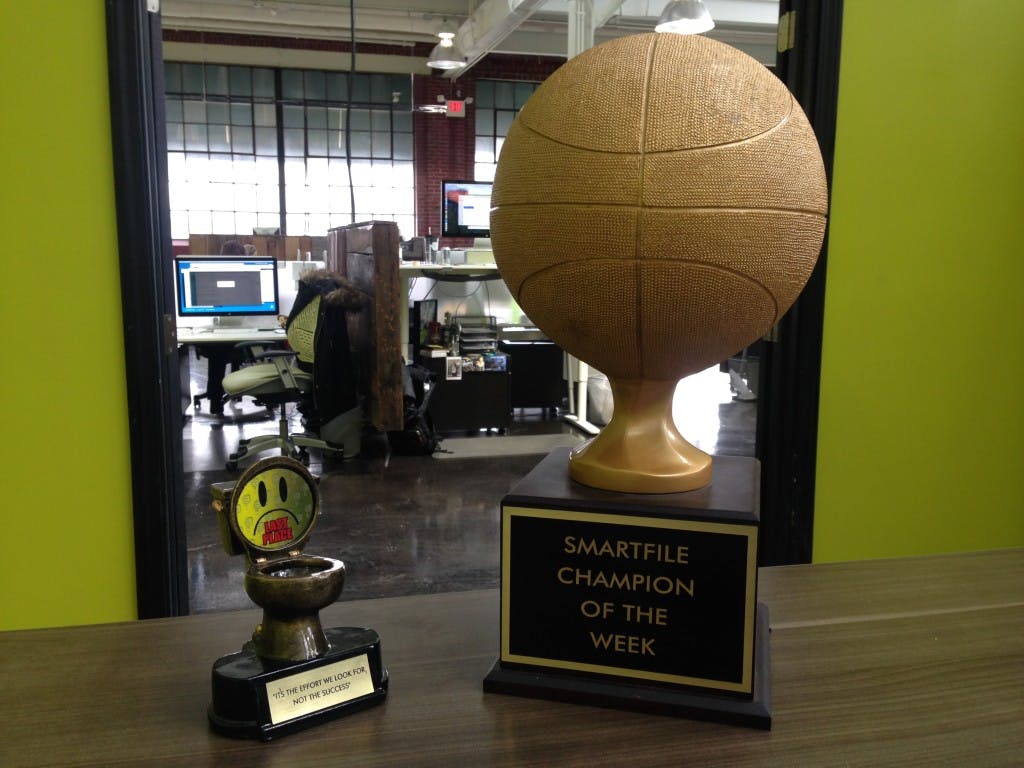 Our location. We get to work in the historic Stutz Building in Downtown Indianapolis, a former automobile factory that created one of the first race cars to speed to victory in the Indianapolis 500. The building is filled with art studios and small businesses as well as the classic and antique cars that reflect its heritage.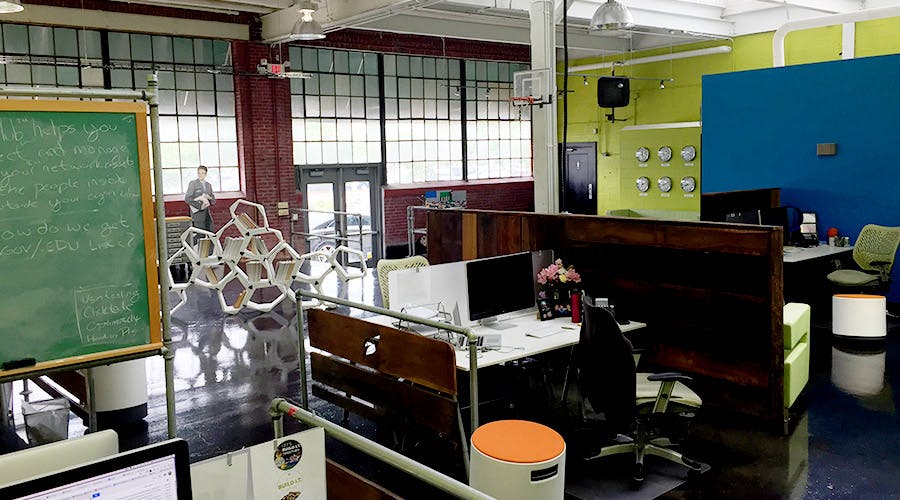 Our office is a special space, too. Large windows let in natural light on the open office floor plan and a break room that's stocked with all the snacks you could want.
Our team members get to work at standing or sitting desks, on MacBooks or PCs and in the comfiest office chairs available.
And last but not least, our team. We know how to have fun, but we're also a team of hard-working high performers. Each member of our team is passionate about what they do, whether it's educating potential clients on our file management platform through sales and marketing, providing a high level of service through our customer relations team or writing the code that brings new features to our appliance on our development team. Everyone contributes as a team to provide value to our customers in unique and innovative ways. Without our team members' efforts, we wouldn't have as solid of a product or a culture.
Can I come work at SmartFile?
You sure can! We grew in 2015 and we're planning on growing even more in 2016. The people here are what make SmartFile special. We love people that take charge and make an impact for our business. Do that and you'll be rewarded — just don't be a jerk about it. We focus on hiring for the 3 intangibles that we feel make our team special:
If you think you not only have those characteristics but live them, go check out our Careers and see if we have an open position that you'd thrive in.
Anything else?
Yes! We'd like to say thank you to our team members and the Indiana Chamber of Commerce for recognizing our efforts to make SmartFile a great place to work.
Want to Join the SmartFile Team?