IaaS, SaaS, and PaaS are all cloud computing solutions. When you need to create an app for your business you have a couple different options, so it's important to understand the differences between IaaS, SaaS and PaaS. You can either build the infrastructure, software or platform yourself, use one that's already built, or build off of something someone has already started.
Infrastructure as a Service (IaaS)
This is the most basic of the three. The service provider has created the infrastructure, and that's it. This allows the developer to create their own platform and software. The responsibility of maintaining and updating the system falls on the developer and not the provider. This service provides more flexibility and requires a higher amount of technical knowledge, or, at least knowing someone who does.
Software as a Service (SaaS)
Platform as a Service (PaaS)
We've written a brief overview of PaaS before, so check that out, too.
PaaS is going to offer you the hardware and the infrastructure for running applications over the internet. The service provider has already built the infrastructure and the platform, so all the developer has to do is write their program and deploy it. Boom. That was simple. Maintenance falls on the PaaS provider; so that's one less thing the developer has to worry about.
But for a lot of people, that's just a lot of words. So, here's a chart to help show the differences between IaaS, SaaS and PaaS and where responsibilities lie. (Thanks to the CIO Research Center for this awesome graphic).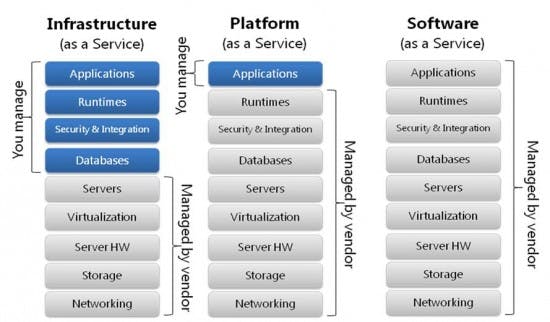 Here at SmartFile, we offer a one of a kind PaaS that offers developers the largest file management toolset for rapid development and application integration. You can check out the developer portal here.
All-in-One File Management Platform