By now, you know that writing content is an important aspect of internet marketing. (I'm not going to spend a single additional second discussing this; if you are NOT aware of this, do a Google search for "Content is King" and call it a day.)
Content is important … but what do you do if you don't know what to write? Busting writer's block can be tricky. If you are anything like me, you can become paralyzed with an idea drought. Here are a few tools and ideas to help you push through and create some killer content for your company blog, personal blog, and guest blog.
Google It!
You can do a lot more with Google than you may have realized. Here are a few tricks that I keep up my sleeve when blog ideas are not flowing freely.
Google Trends: Want to know what's hot? Use Google's Hot Searches and Trends to see what topics are trending (nationally). Talking about "what's hot" is a great way to connect with your audience! Is there a topic that relates to your business, directly or indirectly? Is there a way to hijack a topic and relate it to your product or services?
Google Keyword Planner: Have a Google AdWords account? Great! That means you can use Keyword Planner to search for keywords or keyword phrases related to your business to see what's being searched for the most in your industry. Once you have ID'd the highest traffic phrases, write a blog post about them and/or using them. Bonus: this will drive targeted traffic to your blog! Once you have logged into your AdWords account, you can access Keyword Planner in the Tools and Analysis drop down menu.
Search Tabs: Take advantage of the 'News' and 'Blogs' search tabs, gems hidden in the 'More' view. This is a very fast way to research industry news and blogging 'hot topics'. Start with a keyword search.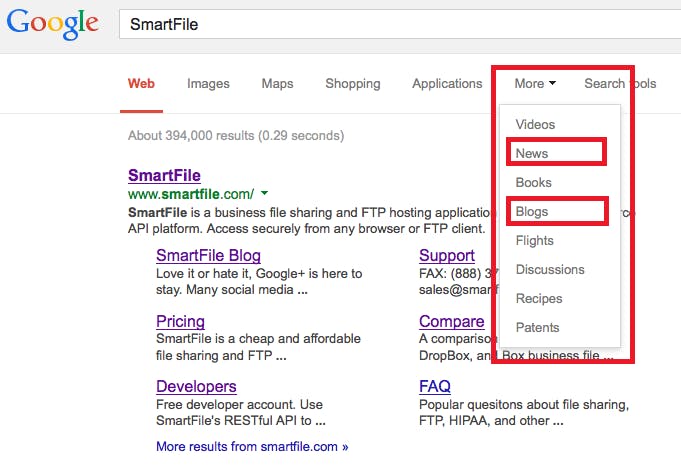 Brainstorm Helpers
There are some very cool (and helpful) tools, most of them free, to help you brainstorm blog post ideas. Here are a few that I like to use when I need an idea boost.
Ubersuggest: Typing a keyword into Ubersuggest gives you related keyword topics and phrases. It's a great way to connect the dots on related topics that may have no occurred to you before. The best part? The results show real user search queries!
Soovle: Yes, the UI is kind of hideous, but don't let that scare you. Soovle aggregates information from Google, Yahoo, Bing, YouTube, Wikipedia, Amazon, and Answers.com simultaneously. Each result is clickable, too. Use this tool for additional keyword searches and suggestions.
Topsy: Twitter can be an excellent source of blog ideas, especially if you know where to look! Allow me to introduce you to Topsy. They indexed all tweets (ever!), making them quite a resource! Their site works as a Twitter content aggregator to show links, tweets, videos, images, and influencers for your search query. You can filter by time and type of result, too.
All Things Now: This is another site with a less than beautiful interface that can help you brainstorm content ideas. You can browse by topic or search by keyword for the most shared content from Facebook for the last four days. If a lot of people are talking about it on Facebook, it should make a good topic for a blog post.
Helium: Looking for an article repository? Use Helium, the how-to, knowledge-based blogging community. You can get specific with a keyword or question search or browse over 15 different channels for articles and how-to help. You can also register as an author (or find a freelancer) from their site.
Answer Sites: When in doubt, cruise around Quora or Yahoo! Answers to get some inspiration. Answer questions being asked by the community on your blog. Once your post is complete and published, go back to answer the question on Quora with a link to your new answer post in your response.
Creating great content can be hard; knowing about and using the right tools can make it a lot easier. No matter what tool you use, remember that a key to good content is knowing what your audience is searching for and then giving them what they want. Hopefully some of these tools will inspire some great ideas.
How do you bust writer's block? Please share in the comments below!